Advantages of ultrasonic technology in industry
Persistent organic pollutants become biodegradable
By integrating ultrasonic technology, persistent organic pollutants can be treated so that they are biodegradable. This is particularly advantageous in the treatment of difficult wastewaters. Ultrasonic technology is also used in the industrial sector to prepare problematic organic substances for better degradation.
---
BIOSONATOR: High-performance ultrasonic system for the treatment of pollutants
The efficient ultrasonic unit was developed as a plug & play system to test first before the purchase decision. Before municipal and industrial operators decide to treat their wastewater with ultrasonic, even in the long term, the technology is usually tested for several months in advance. In order to now offer operators an even more practical and, above all, optimized solution, ULTRAWAVES, in cooperation with its colleagues from SONOTRONIC, has further developed the ultrasonic system into a plug & play system, the BIOSONATOR.
Thanks to the peripherals integrated in the BIOSONATOR and optimally matched to the ultrasonic unit, consisting of pump, piping and flow measurement, the technology can be integrated directly and easily into the ongoing plant operation from now on. The operator does not have to purchase any additional units for the test run, and thus saves time and money.
Another significant advantage is that the ultrasonic system with 100 percent matched components can be installed by our service technicians in less than a day and already shows optimum effect during the test phase. The division into three interconnected platforms (pump, ultrasonic system and control cabinet) also means that it can be easily set up in any room and is very easy to operate.
What is the BIOSONATOR used for?
Industrial wastewater treatment
Processing of water for industrial use
Treating surfaces
Desorption of organic substances
Dissolving of cell contents to enable recycling
What are the advantages of disinfection with ultrasonic?
Environmentally friendly process
No chemical substances
Reduction of powdered activated carbon
---
Wastewater treatment entirely without chemicals
Without costly chemical processes, treat wastewater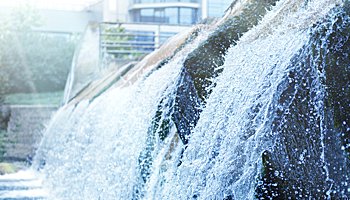 Persistent organic pollutants that can usually only be treated with expensive chemical processes, e.g. in landfill leachate, are changed in their chemical structure by ultrasonic so that they become biodegradable. Thus, even difficult wastewaters can now be fed to universal and economically advantageous biological treatment (example: tributyltin, TBT). We unfold a wide range of previously unknown ultrasonic variants and thus arrive at new methods for the intensification of surface processes: The desorption of organic and inorganic substances/pollutants is improved (soil purification).
Analogous to municipal wastewater treatment, we also intensify conventional processes of biological wastewater treatment and sludge treatment in the industrial sector with our innovative process technology.
Sterilization of process and waste water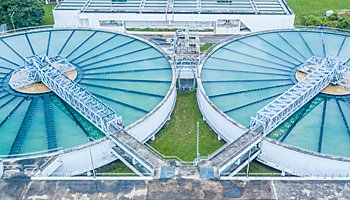 Ultrasonic is suitable for disinfecting water with high concentrations of solids (turbidity). Classical methods such as UV or chlorine are ineffective in these cases.
Persistent organic pollutants, which usually can only be treated with expensive chemical processes (e.g. landfill leachates), are changed in their chemical structure by ultrasonic treatment. It causes the breaking of chemical bonds and the reduction of molecular size, with the result that these substances are made biologically available.
---
References industry worldwide
The advantages
Increase in alcohol yield by up to 20%
Pearl Distillery
India
Large scale technical test, 2012
Karan Distillery
India
Large scale technical test, 2012
Contact